Sponaugle shares a new book with third graders | Journal-news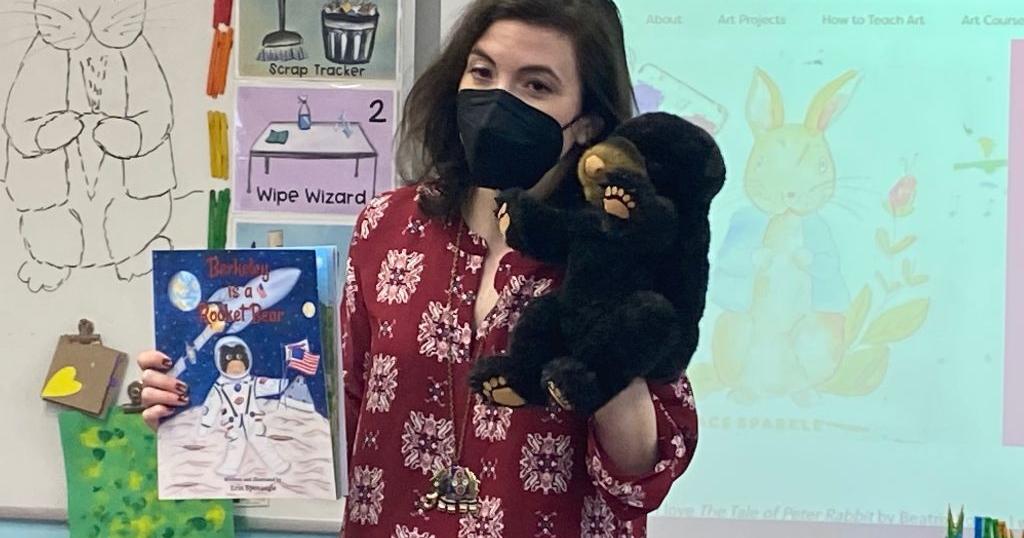 HEDGESVILLE — Third-grade students in Erin Sponaugle's art class at Tomahawk Middle School had a treat Thursday when their teacher shared with them her latest book, "Berkeley is a Rocket Bear."
The book is a sequel to Sponaugle's first book, "The Adventures of Berkeley the Bear". "Oohs and aahs" could be heard from her students as she showed off the cover of her latest release.
"Oh, it has your name on it," exclaimed one student.
Sponaugle got the kids even more excited when she brought out her puppet, Berkeley the bear, to help explain that the new story focuses on Berkeley's adventures at space camp. Sponaugle shared that she, as West Virginia's 2014 Teacher of the Year, was able to attend space camp in Greenbank, West Virginia — a trip Berkeley also took and has now shared.
Sponaugle explained that the idea for Berkeley the Bear originated as a potential play on Flat Stanley, who travels and then shares his adventures.
"But Flat Stanley was taken," laughed Sponaugle.
So she found a black bear, the state animal of West Virginia, and started a blog highlighting Berkeley's adventures as he traveled West Virginia with her following the award of the teacher of the year.
Sponaugle's first book, she said, highlighted Berkeley's travels across the state, as he did things like climb Spruce Knob and raft at Harpers Ferry.
"The first book was more about social studies. I also wanted to make the book more inclusive," Sponaugle said, explaining that both characters in the story are blind and one is visually impaired. "I want to normalize being different."
Sponaugle, who taught elementary school for 19 years, spent much of that time as a fifth grade teacher before recently turning to art.
"I've loved drawing since I was a kid, but I didn't think of it as a career," Sponaugle said. "At the end of 2014, I started thinking that the Berkeley the Bear blog would make a good book.
"I knew absolutely nothing," she said, adding that she had now learned just about everything, including setting up her own publishing house, Next Chapter Press.
She decided to start the business after realizing that trying to get a book published through established publishing houses could take years.
"There's a lot of parts of making books that you don't think about," Sponaugle said, including not just the writing and illustration, but also the business part of the process, including things like l Obtaining an ISBN for the Library of Congress.
Berkeley's first volume was a learning experience. The latest book, which began just before the pandemic hit, was another kind of challenge for Sponaugle, who, with more time to think about the book, wondered if it was something she really was. supposed to do.
"As things got better, I worked to get back on track," she explained.
She is very happy to have completed the new Berkeley adventure and is already planning other adventures for the bear and his friends.
"There are definitely more Berkeley trips to come," Sponaugle said, adding that she also had ideas for additional projects, including teacher resource books.
Sponaugle's books can be found on Amazon and at Barnes and Noble and Books-a-Million. She will host a book signing at the Winchester Book Gallery later this spring.
For more information, visit his website at www.erinsponaugle.com.