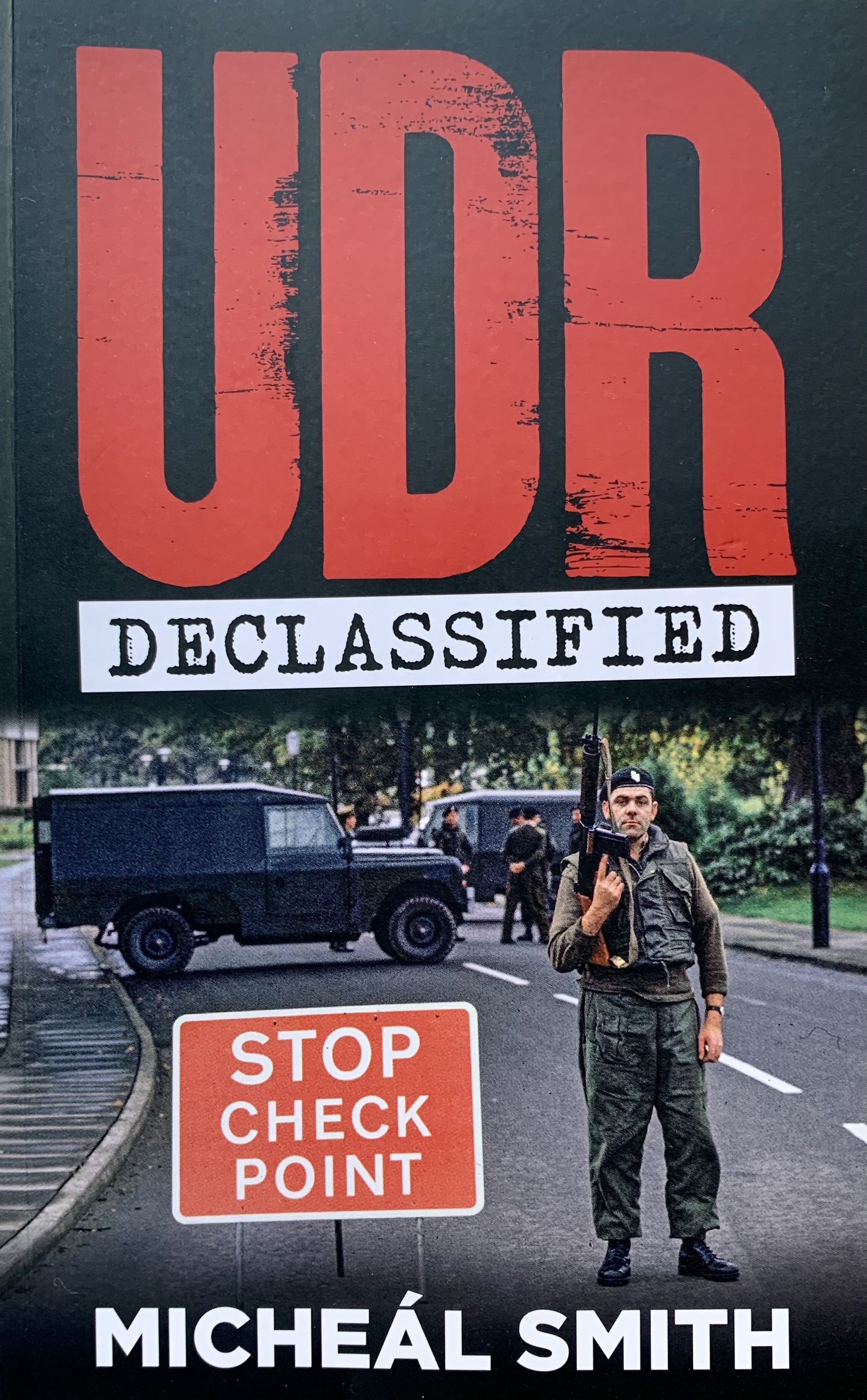 On April 1, 1970, the Ulster Defense Regiment officially took its place in the ranks of the British Army. The UDR was a locally recruited militia created by the British government after the B Specials were disbanded the previous year. When it also disbanded 22 years later, it had reached an even higher level of sectarian notoriety than the Specials.
Micheál Smith, who is a social worker with the Pat Finucane Center and previously worked as a diplomat at the Foreign Office in Dublin, has just published 'UDR Declassified' which is an account of the regiment and looks at the 'history of the regiment and the traditions from which it stems"…"the experience of those who served in the UDR and recognize their losses; we also aim to show the range of illegal, collusive and murderous acts of some if its numbers…"
Smith describes the book as "not a history of the regiment", but rather "an attempt to say what Whitehall, Number 10 and the Ministry of Defense had to say about the regiment in documents found among declassified files ".
The British government was warned of the dangers of establishing the UDR. The Ulster Special Constabulary – B Specials – was a Unionist paramilitary militia noted for its sectarian and violent actions against the Nationalist people of the North. It was, with the RUC, the armed wing of the Unionist State since the beginning of the partition.
In 1969, the B Specials played a leading role in attacks on civil rights protesters and in the pogroms in Belfast which saw people killed, hundreds of Catholic homes destroyed and thousands forced to flee as refugees. The October 1969 Hunt Report called for its disbandment and the creation of a new force.
Unionists' concern over the disbanding of the B Specials was allayed by union leaders. Stormont Premier Chichester Clark said on October 13, 1969: 'The name and organization of the Specials will change…our new security reserve will have the arms and other equipment it needs to be a force of very effective defense, not for the conditions of 21 for the 70s. »
The UDR was created on January 1, 1970 and became operational on April 1. At the end of March, 1,420 of the 2,440 UDR recruits were former members of the B Specials. In some areas, entire Specials platoons joined the UDR en masse.
In a very short time, his reputation for bigotry had surpassed that of the B Specials. Moreover, as Smith acknowledges, "For elements of the British establishment, the UDR was used as a surrogate 'counter-gang'…the Ministry of Defense (MoD) knew that UDR weapons were systematically stolen and used to murder Catholics…the British were in fact well aware of what was going on and frequently branded it internally as "collusion" since the early 1970s."
In the first ten years of its existence, more than 200 UDR members were convicted of offences, many of them related to sectarian killings. Smith reports that in 1976 Hibernia magazine compiled a list of over 100 UDR soldiers accused of crimes. He also notes how an internal investigation into 10 UDRs based at Girdwood Barracks in North Belfast concluded that "up to 70 members of the battalion had links with loyalist paramilitary groups at some level, while he was also suspected that up to 30 members of the battalion had engaged in large-scale fraud, claiming between £30,000 and £47,000 for unperformed tasks. This money was strongly suspected to have gone to the local UVF.
The UDR soldiers were also part of the Glenanne gang, which operated from a farm in Armagh owned by James Mitchell. He was responsible for more than 120 murders and dozens of injuries, including the Dublin and Monaghan bombings in May 1974 which killed 33 people.
Sometimes the involvement of UDR soldiers depended on the individual, but it was often part of a structured process of control and collusion by elements of the RUC, the RUC special branch and the various agencies British security forces, including the Force Reconnaissance Unit, MI5 and MI6. .
In a 1984 issue of Ulster – the UDA magazine – he listed 41 lifers belonging to the Long Kesh organisation. Twenty-four of the forty-one lifers in the UDA "came from the security forces, five from the UDR".
Smith concludes that the UDR "operated as a facility for loyalist groups within which the paramilitaries had access to military training and equipment…there was also a constant traffic in weapons and intelligence data from UDR personnel and bases to the standby arms of loyalist paramilitary groups. These weapons and intelligence have repeatedly been used to kill Catholic civilians."
He also states that Whitehall, the Northern Ireland office and the Ministry of Defense knew there was collusion in both the arms thefts and the murderous attacks, but "combatting such collusion has not never been a priority… For a lot of people the UDR was just the B Specials with better guns. "
UDR Declassified is an extremely informative account of part of the conflict and the role of the Ulster Defense Regiment, which is generally little mentioned today. Forensic examination of declassified documents by Smith and others has already resulted in similar publications, including Anne Cadwallader's "Lethal Allies" and Margaret Urwins' "A State in Denial".
Tens of thousands of these files remain hidden by the British state, waiting to be discovered and examined. Some, like those relating to the plastic bullet murder of two children – Paul Whitters and Julie Livingstone – remain closed for another 40 years.
The reason for this, and the rationale for the British government's amnesty proposals to end dispute-related prosecutions, is to ensure that the truth about Britain's role in the war remains hidden.
Micheál Smith states: "The denial of access to history is part of a continuum of efforts by the British state to obscure its colonial past – 'to protect the reputation of the British state from previous generations, concealing and manipulating history – carving out an official narrative – in a way more associated with a dictatorship than a mature, confident democracy.
UDR Declassified by Micheál Smith is published by Merrion Press.
DREAMS
My recovery from Covid is progressing slowly. I have nothing to say about this. I am better than many other unfortunates. In fact, my main symptom is lethargy. A profound ability to sleep 24 hours a day, which is not a bad thing. Sleep, we are told, is a great healer. I'm really grateful for my shots and my booster. And to our health workers. I credit them, along with my mask-wearing and social distancing, for my ability to dodge Covid for almost two years. But just when I thought I was out of the gap – whack – Covid sneaks up on me. Ah well…….
Incidentally, my knowledge of Covid includes me in very vivid dreams. I have read that there is a Covid dream aspect to this virus. I can testify to that. My dreams all seem to involve my friend Gerry Kelly. The funny thing is that when I wake up from the dream and fall asleep again, the dream picks up where it left off. It's like a dream series.
A lot of it seems to involve a really long train ride with me to help Gerry get away from whatever he's trying to get away from. He is clearly a benign heroic presence and I am happy to help him. The problem, as with many dreams, is that even though it's vivid when I wake up the next day, my dream is hazy and vague. Apart from the presence of Gerry Kelly.
GAGA-RADIO
I listen to the radio a lot. I still have. I'm more of a wireless listener than a viewer. Raidió na Gaeltachta, Raidió Fáilte, RTE Radio 1 and Lyric FM. And Radio Ulster. Covid reunited me with radio. It was like being back in Long Kesh.
I've been a longtime fan of John Bennett's Sunday Club. Its musical selections match my tastes, as do its suave tones as sleep beckons. Several times he rocked me to sleep in my solitary cell.
When I was in Long Kesh, Downtown Radio was a favorite station, especially Tommy Sands programs. On-demand shows have always been preferred, regardless of the station. The unsuspecting presenter would cause ructions in our post-lockdown wing when he or she read "Best wishes to pee Mickey who's been away from home for a while." Best wishes from Sadie, his eternal darling.
Or "Happy Birthday Walter from your mum. We're throwing a big party for you."
I wonder if they ever guessed that their demands were for long-suffering political prisoners. And sometimes other long-suffering political prisoners pretending to be moms or lovers. Poor little Mickey. Walter Bocht.
I loved Gerry Anderson and Seán Coyle on Radio Foyle. Free spirits. Brilliant broadcast.