March marks 50 years of the Ballymurphy shooting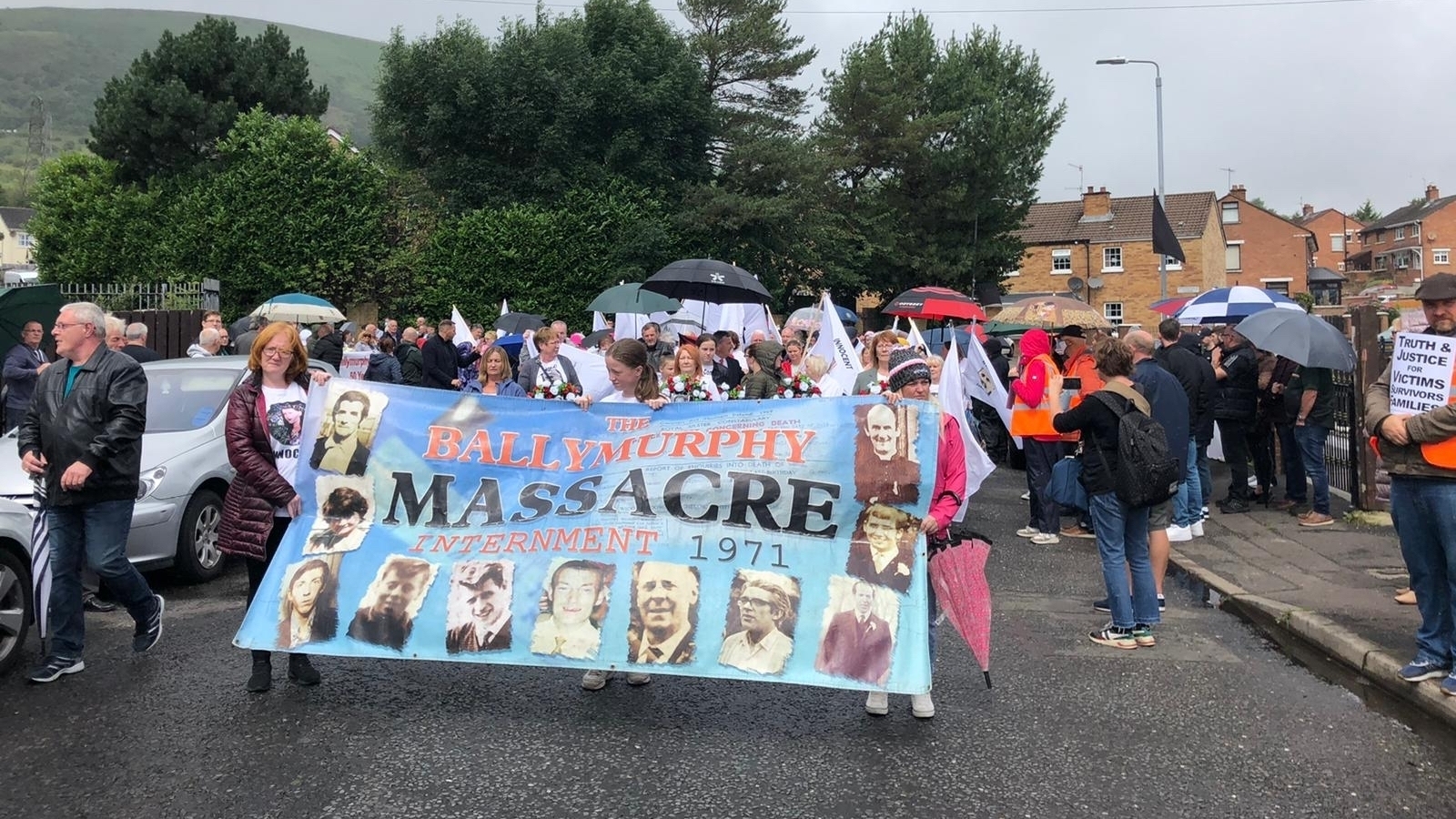 A march was held in West Belfast to mark the 50th anniversary of the deaths of ten innocent people who were shot and killed in Ballymurphy, following a British Army operation.
Earlier this year, a Belfast coroner concluded that the ten Ballymurphy's victims were "entirely innocent" and that their murders were wrongful.
Tomorrow will mark 50 years since the beginning of what has become the "Ballymurphy Massacre".
It took place over three days immediately after the introduction of non-trial detention in Northern Ireland.
Today, the families of Ballymurphy's victims were joined in their "march for the truth" by a number of victim groups linked to others who were killed during the unrest.
The groups were also present to voice their opposition to the UK government's plans to address the issues left over from the unrest, including the proposed introduction of a prosecution ban from this period.
John Teggart, whose father Daniel Teggart was shot and killed in Ballymurphy in 1971, said "victims everywhere are coming together today and are united with one voice" in opposition to the proposals.
"There are families here affected by British state forces, there are families here affected by loyalist paramilitaries, and there are families affected by Republican paramilitaries. It's inter-communal and we are united in 'one voice,' he said.
Mr Teggart said many other families had hoped to follow in the footsteps of the Ballymurphy families.
"We are saying (to the UK government) that you will not bring these new proposals, you will not stop the ongoing investigations and you will not stop any of the civil or legal avenues that we have before us. You will not stop it. .
"We are united and we will continue to fight," he said.
Bobby Clarke was the first person to be shot in Ballymurphy 50 years ago. He survived and is now 80 years old. He was present with the families of the victims before the start of the march. Mr Clarke said he was also against an amnesty on the prosecution.
"I don't want anyone to be crucified, but at least admit their guilt, that's all," he said.
Alan McBride's wife Sharon was killed in the IRA bomb attack on Shankill Road in Belfast in 1993. She was only 29 at the time.
He said he attended today's march in solidarity and support for the Ballymurphy families but also to oppose what he called the "cruel and dehumanizing" legacy proposals.
Mr McBride agreed that all families are united against the proposals, but said there are still divisions between communities when it comes to the issues of victims and survivors.
"I look forward to the day when we can organize a walk where all the communities are represented, the Shankill families, the Ballymurphy families, Bloody Sunday. A little of this is happening today, but there could be so much more. ", did he declare.
"We have to start somewhere and I think it's every time we start speaking with one voice that the government will be forced to listen."
John Kelly's brother, Michael, was killed on Bloody Sunday.
He said the families of the victims will "never" give up and "will continue the campaign for truth and justice for our loved ones."