Hancher's "Wellspring" Fish Sculptures Inspire Children's Book by Iowa City Author and Illustrator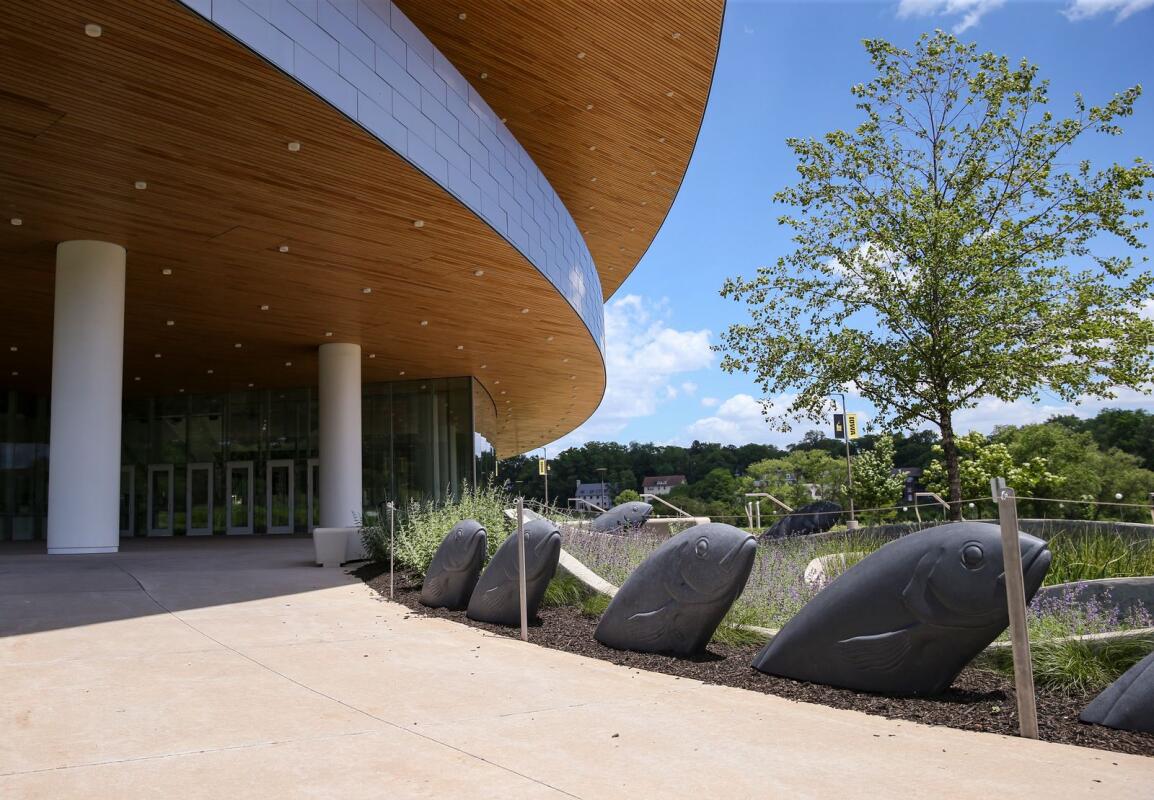 Fish statues line the sidewalk leading to the Hancher Auditorium in Iowa City on Saturday, June 5, 2021. (Andy Abeyta / The Gazette)
Statues of fish along the sidewalks are seen at the Hancher Auditorium in Iowa City on Saturday, June 5, 2021. (Andy Abeyta / The Gazette)
A series of fish statues and the accompanying concrete waves are seen outside the Hancher Auditorium in Iowa City on Saturday, June 5, 2021 (Andy Abeyta / The Gazette)
Last winter, while walking around the grounds of the Hancher Auditorium, I noticed a striking addition to the beautiful landscaping – 30 standing granite fish sculptures, strong and purposeful, but also with a flair for frolics. Little did I know then that a delicious children's picture book was on track to celebrate these sculptures as well as to integrate Hancher's mission of learning, creativity, community and commitment to the arts, and that the author / illustrator duo was none other than Iowa. City's Tess Weaver and Jennifer Black Reinhardt.
Chuck Swanson, executive director of Hancher, commissioned Weaver and Reinhardt to write and illustrate a book that would inspire young people to express their own creativity, as evidenced by the magnificent fish installation created by the New York artist and sculptor. Mexico Colette Hosmer. Entitled "Wellspring," the installation captures both the essence of Hancher and its location along the Iowa River as a special place where creativity springs from its source.
Weaver and Reinhardt happily accepted the picture book's offer and challenge, eager to help Hancher and keen to embrace a long-awaited, but seemingly out of reach, opportunity to collaborate on a project together. After 20 years of criticism, cheerleading and mutual support, these two friends never dreamed of being able to create a special and beautiful book together, but in April, "Fishtastic: A Tale of Magic and Friendship" (2021 , University of Iowa Press, $ 15, ages 3 to 5) has been published. All proceeds will be donated to the Hancher Auditorium to help maintain the world caliber of the arts in Iowa City, literally on the edge of the world. Signed copies of "Fishtastic!" are available for sale at Sidekick Coffee and Books in Iowa City
Illustrator Jennifer Black Reinhardt (left) and author Tess Weaver collaborated on the children's book "Fishtastic! The book, commissioned by Hancher Auditorium, was inspired by Hancher's new fish sculptures. Proceeds from the sale of the book will benefit the arts of Hancher. (Justin Torner)
Sculptor Hosmer's vision of the Iowa trout leaping all around the field also came to fruition on the edge of the world. China, to be exact. There, Hosmer's smaller-scale fish sculptures were copied, carved, sanded and brought to life from huge blocks of granite. After a long journey over the Pacific Ocean, they finally found their way to Iowa City, even during a pandemic, and triggered Weaver's colorful imagination to create the magical "Fishtastic!" "
In the book, the Fishtastic Theater Troupe is thrilled to be invited to the Hancher Auditorium in Iowa City for a performance. The youngest fish in the troop, Etta, designs their fabulous costumes and is friends with everyone, especially her best friends, Marvel and Bloop. If only her incredible designer skills extended to the same magical ability to breathe out of water as everyone else in the cast so she could enjoy their performance and finally see her beautiful costumes sparkle on stage.
Marvel and Bloop try to help her, and when all else fails, they remind her of how wonderful she is, but that's hardly comforting to Etta. Defeated, she gives up her dream of breathing earthly air and seeing the spectacle, but travels with them to Iowa City like a good friend would. In all the excitement, when their trunk full of costumes is forgotten in the river, it is Etta's unwavering care and love for her friends that saves the day and fuels the magic needed for a happy ending.
In the Picture Book Builders blog (photobookbuilders.com), Reinhardt is a regular contributor and conducts an interview with Weaver, which explains how Etta's story came to him:
"I am used to walking when I try to think of ideas or put together sentences. I… kept seeing visions of a trunk rising to the surface of the Iowa River, then pushed onto the bank but dropped back into the water. It made me think: what was in that trunk? Who was pushing him? Why? Asking these questions led me to my main character and the whole team at Fishtastic, "said Weaver. "Added to that was the pandemic, which was new and frightening. I think one of the reasons Etta came to see me in this benevolent way is because I was looking for some light when the world felt so threatened. Etta, Bloop, and Marvel are all benevolent characters. They arrived just when I needed them.
As an illustrator, Reinhardt's witty details, signature humor and whimsical flourishes can be admired on every page. Only a skilled illustrator can give the Iowa Trout individual personalities, and, of course, Reinhardt did. From Etta's pelota hat, to the inventiveness of the marvelous costumes, to the ripples of the Iowa River and, most special of all, Reinhardt's distinctively recognizable interpretation of Iowa City's newest iconic building, the Auditorium Hancher, every page delights, sparkles and tells the story of Weaver. in a glorious way.
Wendy Henrichs is a children's author living in Iowa City.