A series of books arrives at the Orange City Museum | News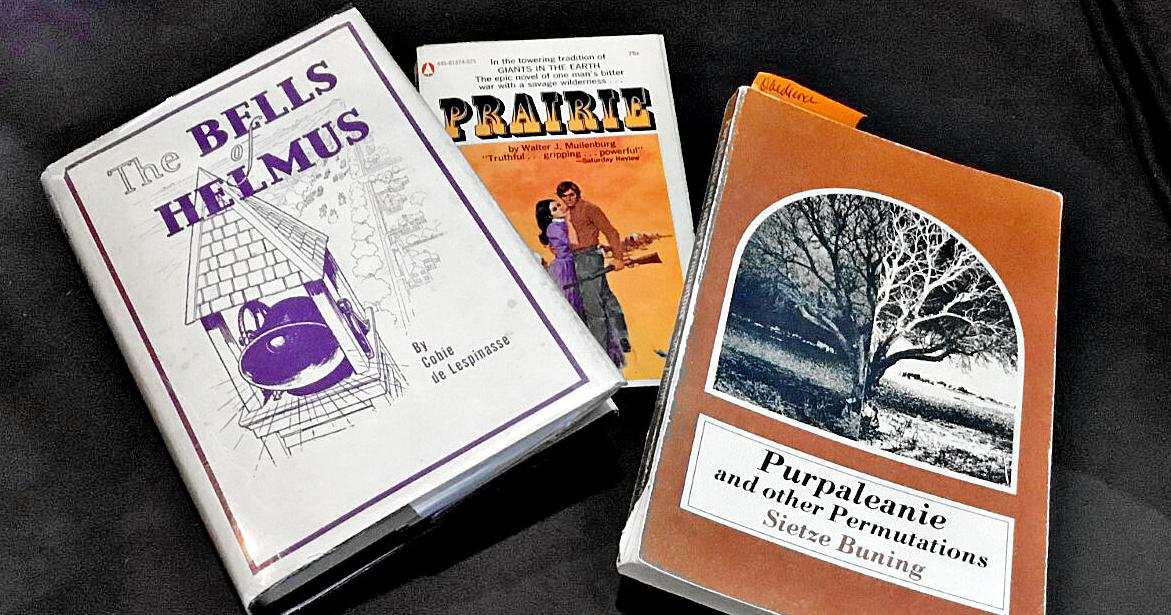 ORANGE CITY—A duo of longtime faculty from N'West Iowa universities will dust off the covers of three books written decades ago by area authors for a series of text discussions.
Jim Schaap, Professor of English Emeritus at Dordt University at the Sioux Center, and Keith Fynaardt, Professor of English at Northwestern College in Orange City, are teaming up to direct "Books at the Museum: Readings on Winter Nights" at the Dutch-American Heritage Museum in Orangeville.
The series will span three sessions, with each session focusing on a different piece of written work that tells ancient stories of people living in and around the Sioux County Seat community.
Pre-registration by Friday, January 21 is required for those wishing to participate in the series. The cost of the three-month program is $75.
The first book discussion is scheduled for 6:30 p.m. on Tuesday, January 25 and will focus on the 1934 novel, "The Bells of Helmus" by Cobie (Muyskens) de Lespinasse. The author was the daughter-in-law of Orange City's second doctor, a Dutchman whose religious views differed from the Dutch Calvinism that pervaded the area.
"It really is a pretty goofy novel," said Schaap, who is also a member of the museum's board. "But it really takes on the kind of self-righteousness that is often a feature of historical novels that deal with the Reformed Dutch: very stuffy, very strict and very unaccommodating to other people."
He added that de Lespinasse would have been "a persona non grata in 1934 when she wrote the novel".
While the book doesn't paint the most flattering picture of the Dutch people who inhabited the town of Orange years ago — and whose museum is dedicated to preserving history — Schaap said it does offer a important historical overview of the city's heritage.
"I tend to be someone who believes heritage is a big, important word," said Schaap, who comes from a Dutch Reform background. "Who did I come from? Why did I come from them? And what did they do and how did it feel? Where did they find their source of strength and power?
Such questions may also arise when reading the second book which will be discussed at 6:30 p.m. on February 22: "Meadow" by Walter Muilenburg published in 1925.
Muilenburg was one of the first settlers in Orange City, arriving shortly after the city's first settlers. The fictional story of "Prairie" tells a similar narrative to that of Muilenburg's life, as protagonist Elias Vaughn breaks with his family's strict religiosity and upper-class tastes to pursue farm life in Nebraska. .
The final piece of literature that will close the museum's discussion series on March 22 is "Purpaleanie and Other Permutations" which is a collection of poems by Stanley Wiersema under the pen name Sietze Buning.
Wiersema grew up near Middleburg and his poetry recalls periods of his life as a boy in the 1940s.
"It all has to do with life on the farm for a boy at this time," Schaap said.
The idea for the book club programs originated in the wake of the museum's hit "Nights at the Museum" summer series, which has run in recent summers. These programs also present the history related to the Orange City region.
When "Nights at the Museum" was launched, Schaap had not anticipated the reception he was going to receive: hundreds of spectators instead of just twenty people.
"Why don't we take books that have real local history value and try to showcase them?" Schaap said.
"God knows there are tons of book clubs and things like that everywhere. So we're going to start our own little book club with just a few books this winter and see what happens.